7 Essentials You Need for Your Home Studio
Music Recording Setup 101
Published on July 28, 2022
written by
So you want to build out a home studio, but you don't know where to start (or if it's possible to do without shelling out some serious cash) …


Well, the good news is that creating high-quality music from the comfort of your home is more accessible – and affordable – than ever. The bad-ish news is that sifting through the mountain of equipment, software, and tech options can be more than a little overwhelming.


Luckily there's me, music enthusiast and writer extraordinaire, to do the heavy lifting for you (you're welcome by the way).


So without further ado, let's jump into the 7 essentials you need to to build your home studio.



Studio Essential #1: Computer/Laptop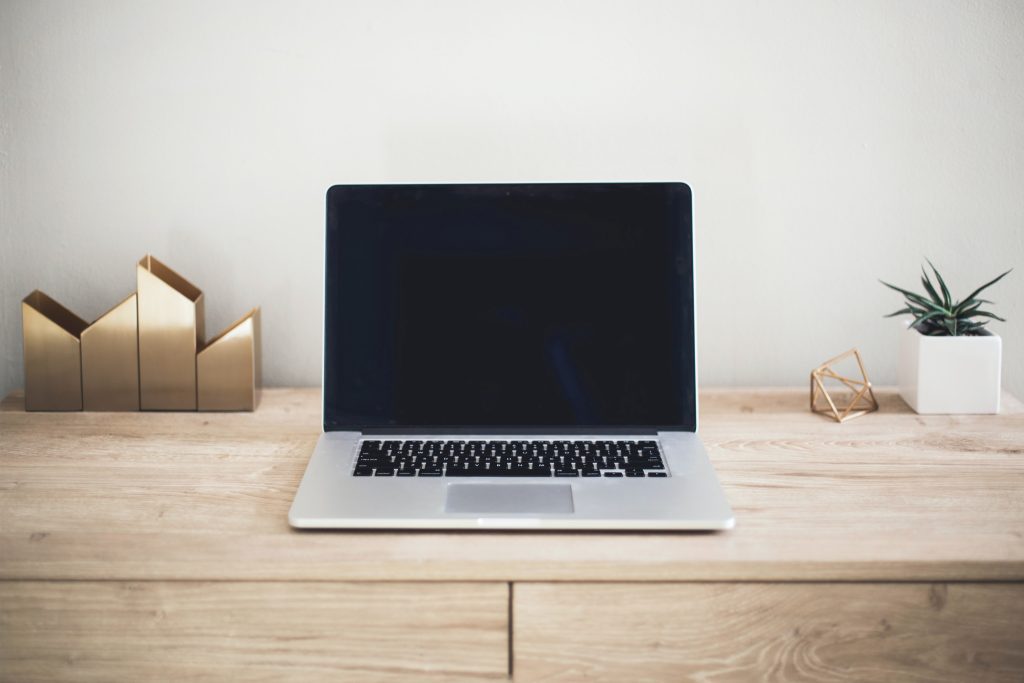 This one might seem obvious but it's worth mentioning.


Your computer is essentially the nerve center of your studio where you'll handle everything from recording, to composing, to arranging and mixing. And chances are, you don't need anything more powerful than what you already have to get started.


But just to give you an idea, here are some specs that make a good home studio laptop or computer:
Hard Drive Capacity. You'll want a laptop or computer that has at least 250 GB of storage, but 500 or 1000 GB is ideal.
Memory Size. Aim for at least 6 GB of RAM is the minimum, but like we say in Texas – bigger is always better. 8GB is pretty good, but 16 GB is amazing.
CPU Power – Intel i5 and i7 processors are the best. They come in dual or quad cores. If you're getting a laptop or computer with an AMD processor, try to go for the A10 quad-core series.



Studio Essential #2: Digital Audio Workstation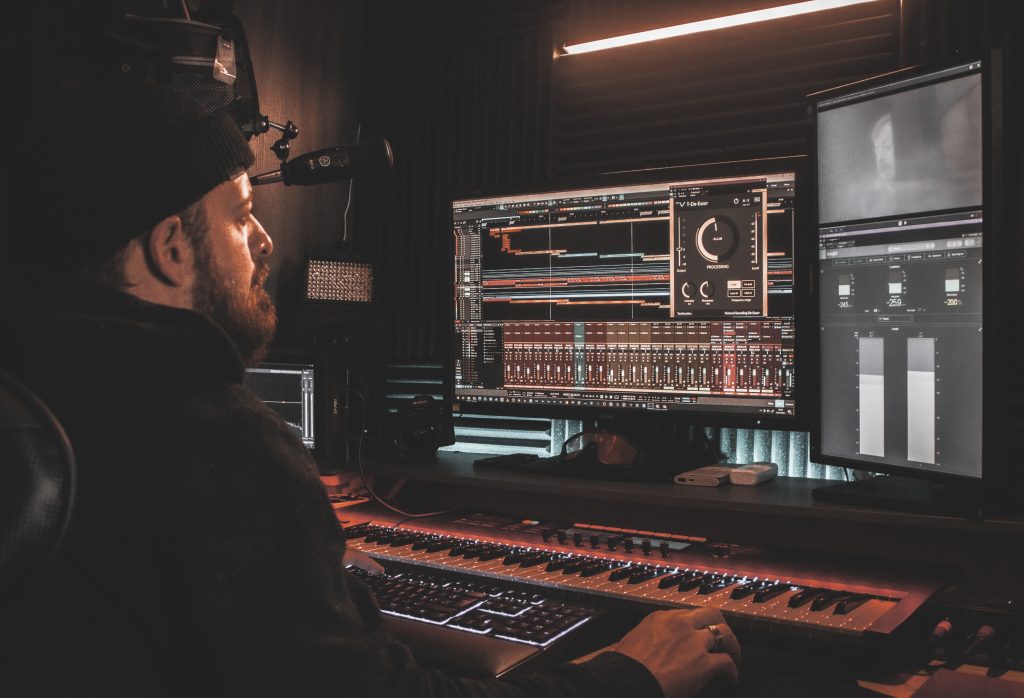 A Digital Audio Workstation (DAW) is a music production software that you use for recording, editing, mixing, and producing music in your home studio.


For all my Mac lovers out there, you'll be happy to know that Apple computers come with a free DAW, Garageband, already built in. You have the option to upgrade to the full version, Logic Pro X which is one of the most complete DAWs on the market (it's available on the Apple store for $199).


For those running other operating systems, two other free DAWs you may be interested in are Reaper and Audacity. However, it's important to note that most free DAWs have somewhat limited capabilities – especially when it comes to collaborating with other producers.


Once you're ready to move on to step your game up, you can look into moving to more powerful software such as:

Studio Essential #3: Audio Interface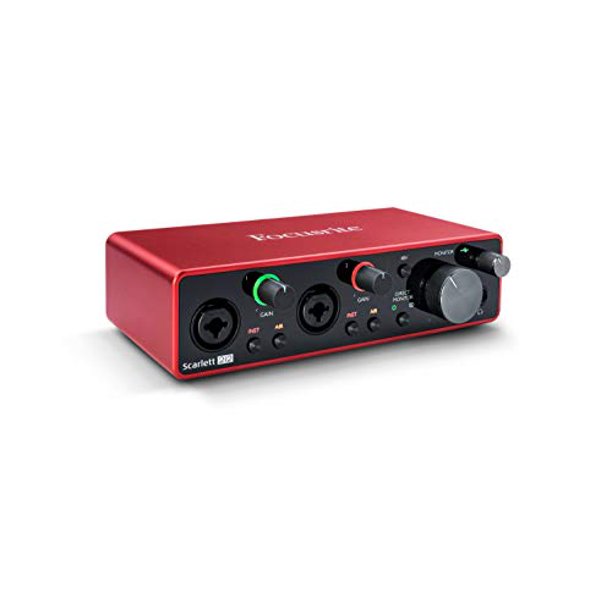 Once your home studio has a solid computer or laptop with a DAW installed, you can go ahead and start creating music. But if you plan on doing any type of recording – whether it's vocals, instruments, or live performances – you need a way to get it into the DAW.


There are a couple different ways to do this, but getting a decent audio interface is by far the easiest – and most cost effective – option.


Essentially, an audio interface acts as an external soundcard that allows you to connect your instruments, microphones, MIDI controllers, and monitors to your computer's digital audio workstation.


But even if you don't plan on recording, you might still want an audio interface to help you with lower audio latencies (which can be an issue when you use multiple virtual instruments and plug-ins on your DAW).


If you're building a home studio on a budget and you want the most value for your money, two good options are either the Focusrite 2i2 or one of NI's Komplete Audio interfaces.


Studio Essential #4: Microphone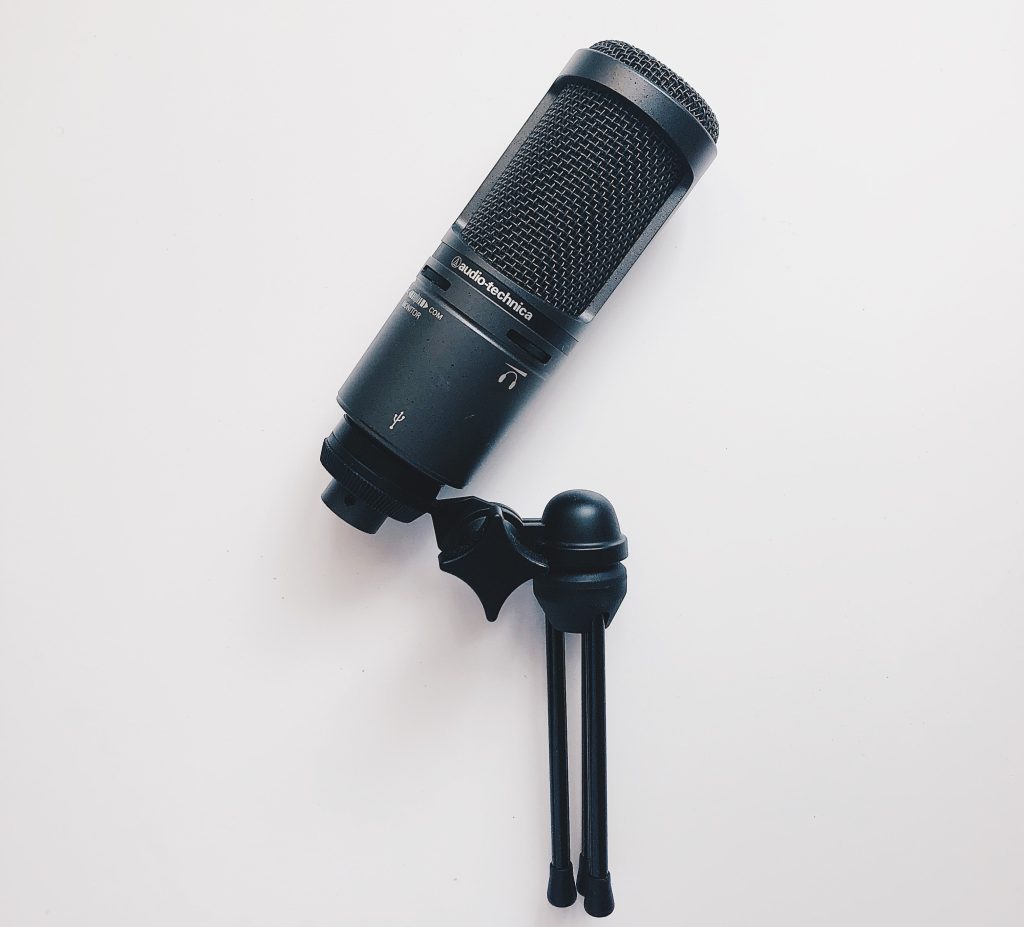 As you build out your studio over time, you'll likely collect an arsenal of microphones, each with its own purpose and specialty.


But when you're just beginning, you really only need one (or two max) to get things going. Of course, which microphone you need depends on what you plan to record.


For most vocals, you can go with a classic condenser microphone. They're sensitive, provide high-quality recording and can tackle a wider range of audio projects, which is perfect for beginners. A good option is the Rode NT1-A.


However, if you're looking to record a range of different instruments, you'll want to go for a dynamic microphone with a higher SPL level. For that, check out the Shure SM57.


Studio Essential #5: Headphones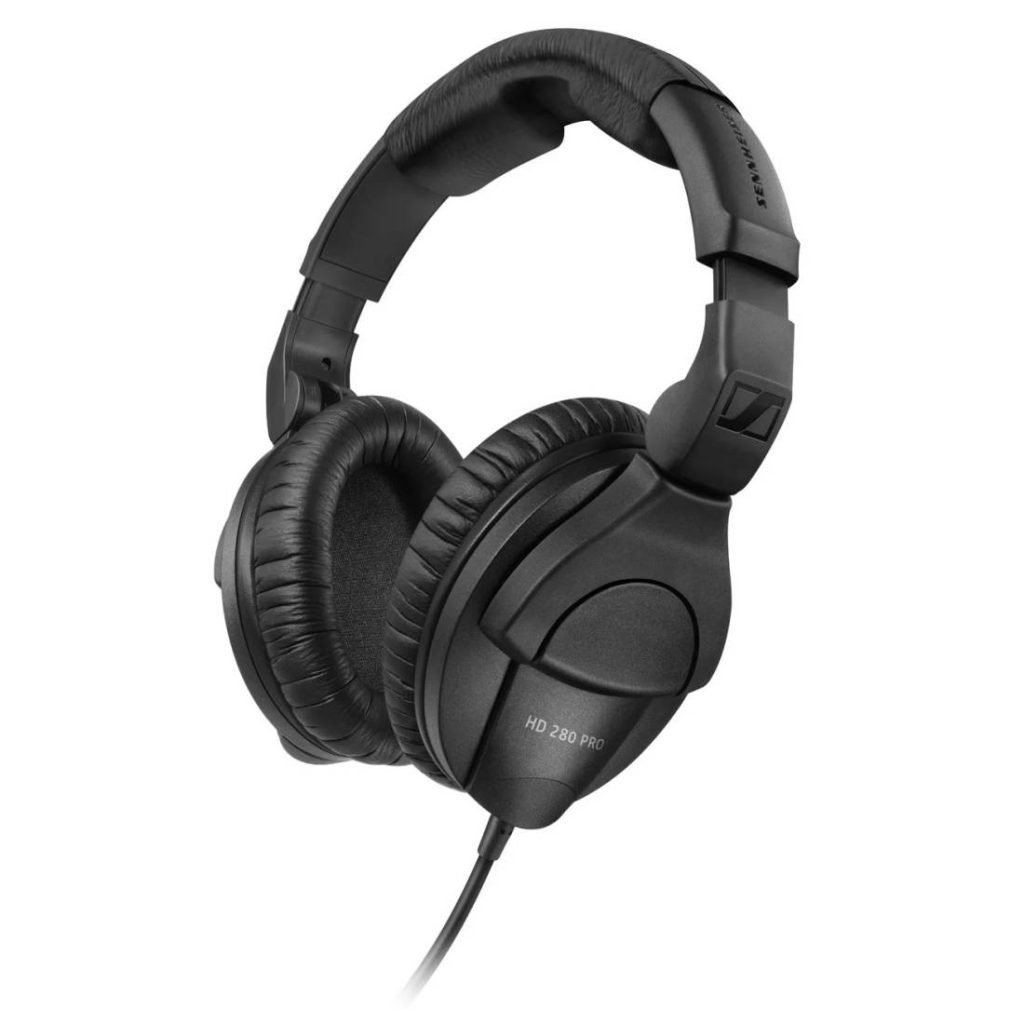 A decent pair of headphones that can reproduce sound accurately (without coloring it) is essential if you're monitoring while recording or mixing and mastering on the go.


There are a few different types of headphones you can buy, but for the purposes of this article we'll just take a look at two:
Closed-back headphones. These headphones feature closed ear-cups, and are designed for sound isolation.
Open-back headphones. The name says it all – these headphones are 'open' at the back. They offer optimal sound quality, but less isolation and are typically used for mixing.


Generally speaking, closed-back headphones are best for monitoring when recording (or mixing in public places), while open-back headphones are primarily for mixing.


If you're just getting started in music production, closed-back headphones are your best bet. If you're looking for quality and a wallet-friendly price point two good options are the Sennheiser HD280, and the Sony MDR-7506.



Studio Essential #6: Studio Monitors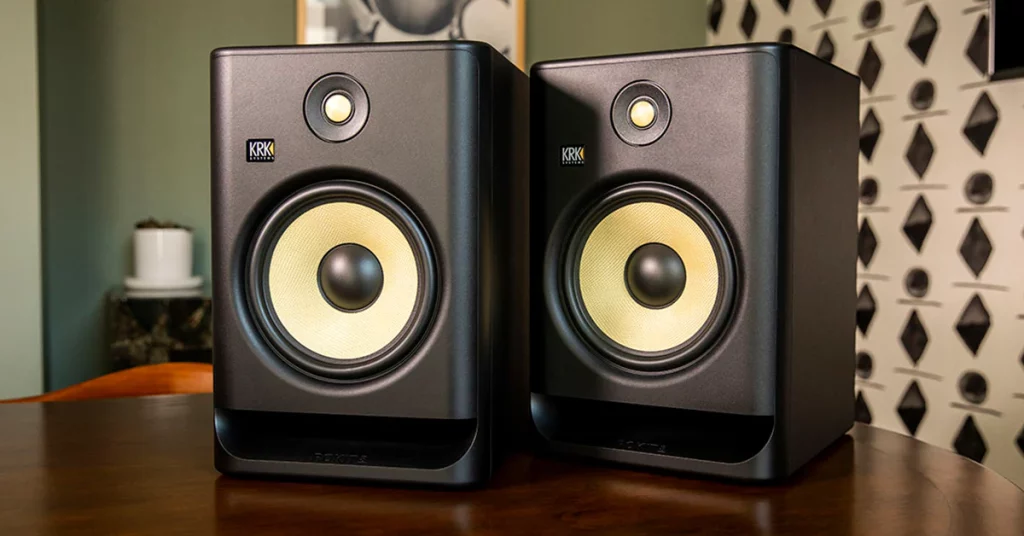 If you want to produce better-sounding mixes, studio monitors are an absolute must have.


Unlike consumer speakers, which are designed with tonal "enhancements", studio monitors are designed to sound flat. Essentially, studio monitors produce a more neutral, uncolored sound which allows you to objectively judge your mix.


While they're definitely a piece of equipment worth getting, studio monitors can be on the pricier side. As you consider options, you'll want to consider what option will best suit your preferences, as well as the size of your home studio.


If you're working with a smaller space, you should go for a smaller monitor. However, try not to get a monitor any smaller than 6 inches, as studio monitors with smaller cones cannot accurately produce low-end bass frequencies.


Some good options are the Yahmaha HS5, or the KRK Rokit 6 G3.



Studio Essential #7: Cables, Adapters and Other Studio Accessories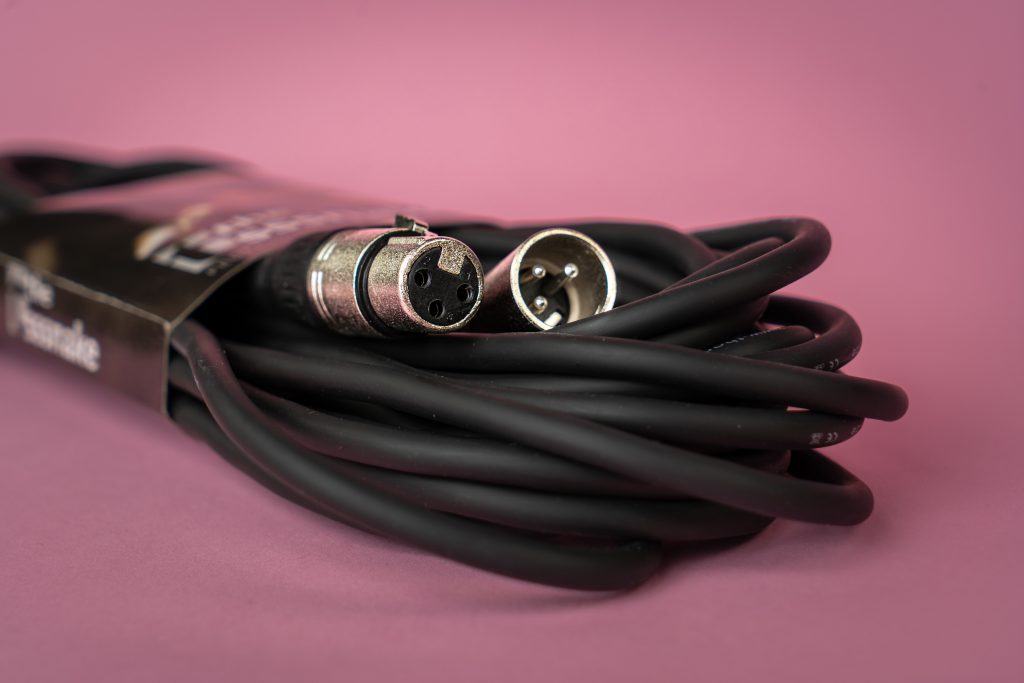 Last, but certainly not least, are your quintessential recording accessories. They may not be as flashy or exciting as some of the other items on this list, but they're every bit as important.


Here are some of the most common cables/adapters you'll need in your home studio:
XLR cables for microphones.
Headphone 1/8″ jack to RCA cables
1/4″ Male to 1/8″ Female Adapter
1/4″ jack instrument cables.
TRS 1/4″ balanced cables.


And while we're talking about studio accessories…


You may also want to look into some other essentials such as microphone stands, pop filters, reflection filters, headphone amplifiers, and others – it just depends on what music you want to create and how you plan to use your home studio. But hey, the world is your oyster!



Now start building the home studio of your dreams and get your music out there!




At NEWM, we're all about putting the control back into the hands of artists. Find out more about us and how you can join in the NEWMusic Movement here.
To get all our amazing stories and know more about Crypto, Music and projectNEWM overall, make sure you register for our NEWMag newsletter!
Mike Lerman shares his story and how he's embracing the potential of Web3 and music co-ownership
The keys to unlocking a solid understanding of a cryptocurrency coin or a token project is to take a look at their tokenomics.
A breakdown on what smart contracts really are – and how they work.